Why Volunteer?
Holland Park Hawks Football Club is one of the largest football clubs in Queensland. We currently have over 1000 registered players from U5s to Over 35's. 
Unlike other sporting codes, Holland Park Hawks Football Club does not receive funds from national or state football associations, large alumni sponsorship or from in-club gambling revenue.
We are a self-funded club.  We rely on the registration fees of our members, local sponsorship and fundraising to provide revenue.
Where possible, we obtain Government and Community Benefit Fund grants for capital works improvements however, these grants usually require at least a 20% to be funded by the club directly.
Asking you, our members, to volunteer allows us to keep our costs low.
Low costs = lower fees for all
We have numerous volunteer roles in the following areas:
Canteen
Fundraising
Executive Committee
Working Bees
On-field duties
We have established an online volunteering system which will help volunteers understand for each event;
What we need help with and
When we need help
Each week we will issue a new sign-up register on the website for that weekend's fixtures.  Please keep an eye out for this and register to help.
Volunteers who have a specific skill or interest will also be able to register separately so that we can form a database of specialist volunteers to call on.
Our system will also allow us to track volunteering throughout the year.
Please keep an eye out for our announcement on the website but in the meantime, if you have any feedback or wish to volunteer immediately please contact:
It's as easy as pressing the sign-up button below: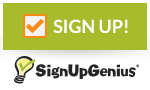 Volunteer Levy 
The $50 levy was introduced to encourage more involvement by members in the day-to-day running and activities required for the continued success of our club and to keep our costs low.
We ask that you volunteer at least 5 hours of your time to the club during the year
If you choose to volunteer, the $50 levy will continue to be rebated automatically during the 2018 registration process. 
If you do not wish to participate in volunteering, the levy should be paid in addition to any player registration fees that may apply.
Each registering individual or family will only pay the levy once per year, so a family with two or three players pays the same as a family with one player.
The Volunteer Levy refund does not apply to tasks including, but not limited to the following:
Washing jerseys

On-field game refereeing or assistant linesman

Team second or third assistant coaching

Setting up or bringing down goals or flags for your game

Providing half-time fruit at games 

Attending games or training, or providing lifts to/from these

Any members that do not fulfill the 5 hours per family request
Volunteer Levy Refunds
Most members who wish to volunteer will have collected the rebate upon registration.
Members who have paid the levy but provide their services during the year will see their volunteer levy refunded at the end of the season.
Our new system will track all volunteering hours during the year.
If you have any feedback or queries about volunteering or the levy please contact us at: